Office of Coastal Management
Louisiana Clean Marina Program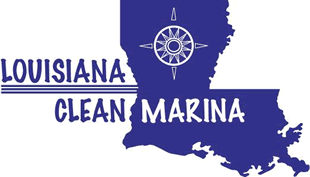 Certified Louisiana Clean Marinas
Ashland Marina
off Hwy. 57
Houma, LA
Bob's Bayou Black Marina, Inc.
Contact: Bobby and Lorraine Breaux
251 Marina Dr.
Gibson, LA 70356
985-575-2315
Chamale Marina
Contact: Leonard E. Bucklin
218 Kepler Lake Ct.
Slidell, LA 70461
985-707-6979
Four Point Landing
Contact: Laurie Spell
1171 Four Point Rd.
Dulac, LA 70353
985-563-2878
Houma Downtown Marina
Contact: Raymond Malbrough, Harbor Master
P.O. Box 6097
Houma, LA 70361
Attn: Anne Picou
985-873-6408
Marina Beau Chêne
Contact: Norma Roberts
900 Marina Blvd.
Mandeville, LA 70471
985-845-3454
Marina Del Ray
Contact: Jeff Nunnelly
100 Marina Del Ray Dr.
Madisonville, La 70447
985-845-4474
Orleans Marina
Contact: Charles Dixon
221 Lake Marina Ave.
New Orleans, LA 70124
504-288-2351
Rigolets Marina
23008 Chef Hwy 90
New Orleans, LA 70129
Deborah Trascler
504-253-8242
South Shore Harbor Marina
Contact: Charles Dixon
6701 Stars and Stripes Blvd.
New Orleans, LA 70126
504-245-3152
T-Irv's
Contact: Irvin Carlos
9499 Grand Caillou Rd.
Dulac, LA 70353
985-563-4295
Myrtle Grove Marina
Contact: Leona Squarsich
161 Marina Rd.
Port Sulphur, LA 70083
504-912-1520
The Delta Marina
Contact: Tony Jennings
317 Rose Marie Dr.
Empire, LA 70050
504-657-5116
Bowtie Marina
Contact: Doug Shearman
1245 Giovanni St.
Lake Charles, LA 70601
337-478-0130
Moran's Marina
Contact: Chris Moran
27900 Highway 1
Golden Meadow, LA 70357
985-396-2727
South Houma Marina
near Bayou Black and Country Club Drive
Houma, LA
Texas Gulf Road Marina
off Hwy. 55 on Company Canal
Bourg, LA
Venice Marina
Contact: Mike Butler
237 Sports Marina Road
Venice La 70091
504-534-9357
The Louisiana Clean Marina Program promotes and celebrates voluntary adoption of measures to assist marinas and recreational boaters in protecting Louisiana's waters. Designated "clean marinas" are recognized as environmentally responsible businesses and enjoy the positive goodwill and economic feedback of being able to promote their business as: A LOUISIANA CLEAN MARINA.
Cleaner Water for Louisiana
Increased Economic Benefits for Louisiana and Louisiana Marinas
Marina operators adopt Best Management Practices (BMPs) in the operation and maintenance of their marinas. These BMPS are provided to operators in a guidebook and in other educational materials. In addition, technical help and advice is provided by members of the various Louisiana Clean Marina member committees.
Clean Marina Certification is achieved after a marina has met a minimum score on the checklist criteria based on BMP practices or options. Operators will conduct self-assessments which will be verified by representatives of the Certification Committee. Certification is maintained through a yearly re-evaluation of marina best management practices.
Louisiana's Clean Marinas will receive:
a certificate acknowledging their environmentally responsible actions
authorization to use the Louisiana Clean Marina logo on their letterhead and in their advertising
a flag to fly on their property, and
promotion by the Clean Marina Initiative in publications, on the World Wide Web and at public events.
Related links:
Other Gulf of Mexico Clean Marina Programs
(Click a state for more information)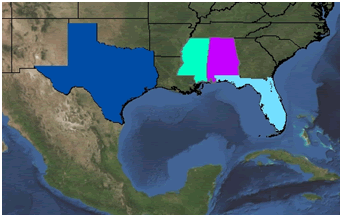 11/17/2011 - Louisiana Harbors - This site is a comprehensive guide to coastal communities. It includes daily tide predictions, weather forecasts, live weather buoy data, and an ever-expanding directory of local businesses.
US Harbors is a free publishing and social media platform that connects shore-side businesses, boaters, and other coastal enthusiasts by providing pinpoint tidal predictions, weather forecasts, a business directory, and a steady stream of local knowledge through a national network of more than 1,100 coastal locations across 20 states. Log in directly or by clicking on your favorite social network and start receiving data and information tailored to your particular interests and home harbor. Click here for more information: http://www.usharbors.com/
10/06/2011 - The Association of Marina Industries recently released a guidebook titled "Best Management Practices for Clean Marinas," a new publication intended to help marinas in states that do not currently have state Clean Marina Programs and states looking to develop their own programs. Click here to learn more.